THIS GAME AND WIKI WILL SHUTDOWN ON MARCH 31st 2012
METAL ASSAULT HAS RETURNED ON MARCH 1st 2016
I AM SORRY EVERYONE! METAL ASSAULT HAS FINALLY CLOSED FOR GOOD.
The EU version is still running, but no longer receives updates or regular maintenance. Thank you all for making it such a fun experience! See you in the next game! - Producer Tirfing.
There are currently 52 articles and we are hoping to get more.
Welcome to the Metal Assault Wiki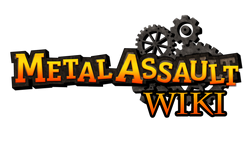 Metal Assault is a 2D side-scrolling action shooter published by Warp Portal. Metal Assault revives the blazing gun-and-run gameplay style first popularized by games such as Metal Slug and Contra.
Metal Assault's stylistic throwback assures that the majority of players can download and start blasting right away, without worrying about spec shortcomings. Enjoy smooth graphics and uninterrupted gameplay that lets you unleash your mercenary fury without distraction.
Metal Assault is now in full release. All players can sign up and join the war at the Metal Assault home page here.

ATTENTION:The Metal Assault Wiki is in dire need of help! Please bear with us as we try to turn this from a blank website to an amazing informational page for dedicated and new players alike!
Oh, and it's a Wikia page, so ANYONE can help out!
For help, contact me, Thingon.
For help, contact me, User:Amos0206.
Amos0206 22:22, April 25, 2011 (UTC)Amos0206
Poll
What is the best type of gun?
News
Latest activity
Community content is available under
CC-BY-SA
unless otherwise noted.